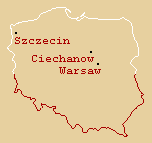 Początki istnienia grupy zaczynają się na jesieni, pod koniec roku 1995. W grudniu tego roku została zawiązana grupa o nazwie Adobe. Liderem jej był Bart (dzisiaj Reiter). Trzy miesiące później dołączyli do nas nowi ludzie z różnych miejsc Polski. Tym sposobem w grupie znalazł się również Franus (dzisiaj Frazes). Z czasem przybywało nam doświadczenia, poznawaliśmy nowych dla nas scenowiczów. Postanowiliśmy też pokazać się światu, dać znać o istnieniu Adobe. Powstały w tym okresie cztery produkty: dyskowa kolekcja grafik w hi-resie, odtwarzarka do zaków - Playboy 1.0, później jej udoskonalona wersja 1.1 oraz przeróbka pewnej odtwarzarki do zaków innej grupy, którą wyposażyliśmy w możliwość pracy z nielegalnymi ścieżkami.
Przez ten okres czasu byliśmy zaprzyjaźnieni z grupą Strangers, której liderem był Hunter. Postanowiliśmy wzmocnić nasze siły, łącząc się i tworząc nową grupę o nazwie Apidya. Szybko przyniosło to oczekiwany efekt. Od tamtego czasu powstaje znacznie więcej produkcji na wysokim poziomie. Grupa została dostrzeżona przez scenowców, otrzymywaliśmy sporo pozdrowień od innych grup (nie tylko w ich produkcjach), także zza granicy Polski.
Również wszelkie magazyny nie pozostały nam obojętne. Często nasi memberzy figurowali w chartsach takich magazynów jak: Design, Inverse, Arachnophobia i wielu innych, których nie sposób przytoczyć.
Tutaj też, w Apidya, nasz skład tworzyli znane postacie polskiej sceny, wielokrotnie nagradzani i cenieni za swe osiągnięcia.
The beginings of group are reaching year 1995. In December of same year group called Adobe appeared. The lider of group was Bart (today Reiter). Three months later more members joined from entire Poland. Thats how Franus (today Frazes) joined. With passing of time we had more experience, we meet new sceners. We decided to show as to the world, show that Adobe exists. At that time four group products was made: disc graphic collection in hi-res, sign viewer - Playboy 1.0, then upgraded version 1.1, and remake of sign viewer from other group, which we expand with ability to work with illegal tracks.
For whole that time we kept friendly relations with group called Strangers, which leader was Hunter. We decided to restrength ourselves creating new group called Apidya. We didn't have to wait for expected effect for long. From that time we are creating many and much more valuable productions. The group was perceived by sceners, we received many greetings from other groups (not only in their productions), even from outside of Poland.
Also all magazines wasn't indifferent to us. Frequently our members could be seen on charts of magazines like: Design, Inverse, Arachnophobia and many more, with are hard to remember them all. One of polish mag had interview with our member Frazes
Here too, in Apidya, our members were well known polish sceners, which received many prizes and where were appreciated for their work.